We are pleased to share with you November's Volunteer and Board Member of the Month, Amanda Hill and Kevin Namaky! In fall 2020, Amanda and Kevin led the charge to create the Consumer Brand Marketing Community, a place for brand team members, marketing executives, and agency partners to connect, inspire, and advance brand-building in the Greater Cincinnati area.
Amy Mersch, VP Marketing & Communications, describes why Kevin and Amanda's contribution is so meaningful—especially now: "Our professional and personal lives have been markedly changed this year, and the concept of 'community' has become even more important. I'm so impressed by the energy, insights, and passion that Kevin and Amanda brought to the table in launching the Consumer Brand Marketing Community, and I can't wait to see how the Community grows in 2021!" 
Learn more about Amanda and Kevin—and their favorite holiday traditions—below!
November 2020 Volunteer of the Month: Amanda Hill
Amanda Hill is Chief Executive Officer of Female Forward and Consumer Brand Marketing Community Leader of AMA Cincinnati.
Favorite Holiday Tradition: "One is driving around to look at Christmas lights with my family. When I was a little girl, my super cool, older teenage aunts would take my sisters and I out on Christmas Eve to look at lights. We would sing along with the radio and just laugh so hard. And I still enjoy going out with my family, admiring the lights, being all together, and getting all the holiday 'feels' from the Christmas music."
November 2020 Board Member of the Month: Kevin Namaky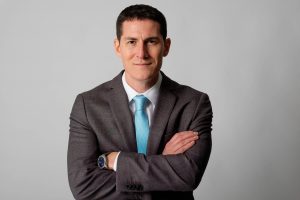 Kevin Namaky is the Founder and Chief Brand Officer of Gurulocity and VP of Programming – Communities for AMA Cincinnati. 
Favorite Holiday Tradition: "My favorite holiday tradition is more of a winter tradition… snowball fights with our boys! There's a lot of fun and suspense in waiting for a good snowfall, of course with snow that's good for packing snowballs. It gives us a good excuse to run around the yard and generally just act a little crazy."
Gina Bonar, VP Strategic Alignment, concludes by saying, "Kevin and Amanda really knocked it out of the park with the launch of our new Community for Consumer Brand Marketers! As our VP of Communities, Kevin did some focused outreach and research, and found that our brand-rich market was ready for the special kind of dedicated programming and networking our Communities provide. Amanda jumped into the newly-created role of Consumer Brand Marketing Community Leader with confidence, energy, and expertise that made others want to be a part of it too, making the inaugural Community meeting a great success. 
Since then, we've had a great deal of positive feedback, new members, new volunteers, and many marketers saying it was their first (or first in a while) AMA Cincinnati event. Bravo, Kevin and Amanda, and THANK YOU for making a difference for AMA and for marketers across Cincinnati!" 
Kudos to you, Amanda and Kevin!

Are you interested in getting involved with AMA Cincinnati and working with passionate marketers like the ones above? Learn more here!