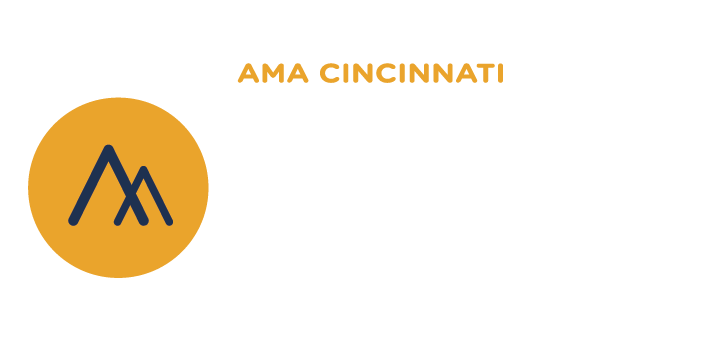 Recognizing Marketing Excellence in Cincinnati
The AMA Cincinnati Pinnacle Awards are the highlight of our chapter year and our chance to celebrate regional excellence in marketing.
Following the success of our 2021 awards program, AMA Cincinnati has again shifted the Pinnacle Awards season from spring to fall.
Submissions are now open!
2022 Pinnacle Awards Schedule
September 28-October 28: Nomination period.
Late October: Submissions are distributed to AMA chapters for judging and scoring.
November: Category finalists revealed.
TBD, December 2022: Pinnacle Awards ceremony is held; category winners revealed.
View event details, general rules, categories and descriptions, past Cincinnati Marketing Legends, and past award winners below.
Event Details & Registration
AMA Cincinnati Pinnacle Awards 2022
We're filled with excitement to bring the Pinnacle Awards to our community of marketers within the Greater Cincinnati area! Get your nominations in because we're working behind the scenes to ensure a  fun-filled celebration for our finalists and category winners.
When: Date TBD
Where: Venue TBD
Important Dates:
Wednesday, September 28: Open for Submissions
Friday, October 28: All Submissions Due by 11:59pm EDT
November:

Category Finalists Revealed

December: Awards Ceremony
General Rules & Information
Eligibility
The Pinnacle Awards are open to all marketing professionals in the Greater Cincinnati area. Those who submit for an award must submit original work or work they directly supervised. The work submitted must have been created/managed from July 1, 2021, up until June 30, 2022.
It is required to pay submission fees at the time of submitting materials. Work submitted without payment will not be judged and therefore not eligible for an award.
Submission Requirements
A summary is required for submissions for categories; supporting materials are highly recommended. See the below section, "How to Submit," for instructions. The Marketing Legends category does not require submission or payment, just simply a completed nomination form.
Judging
Pinnacle submissions will be judged by an American Marketing Association chapter outside of the Cincinnati region. Finalists will be notified in advance of the Awards Ceremony, but winners will not be disclosed until the Awards Ceremony.
Fees & Payment
Submission Fee – $75 per nomination
Collegiate/Student Fee – $25 per nomination
Non-Profit Fee – $0*
Marketing Legend Nomination Fee – $0
*Non-profits, email pinnacle@amacincinnati.org for your discount code!
Deadlines
Submissions must be sent and payment must be received by 11:59 p.m. EDT on Friday, October 28, 2022.
Prepare Your Submission
For all categories except the "Cincinnati Marketing Legends*," submissions must be accompanied by a summary describing the below points. Please keep the summary concise!
2-3 Sentence Summary or "Elevator Pitch" of Nomination
Opportunity / Problem: Provide a brief situation analysis of the opportunity or problem your marketing work addressed.
Objectives: What were you trying to achieve? Who were your target audiences? What did success look like? Don't forget measurement!
Planning & Execution: How did you make it happen?
Results: Did you achieve your goals and objectives? Did your initial vision of success come to fruition? Don't forget measurement!