Our mission is to unite marketing talent in Cincinnati, Dayton, and Northern Kentucky with local nonprofits and startups through collaborative marketing projects that grow our economy and build community resilience.
AMA Cincinnati is the essential community for connecting and inspiring marketing professionals across the Cincinnati, Dayton, and Northern Kentucky region. Our members love to meet each other, build their professional networks, and learn about the latest marketing trends, yet sometimes the most rewarding connections are those with people outside of the marketing industry.
This year, we are launching the AMA Cincinnati agency, a community outreach program that pairs groups of volunteers with local nonprofits or startups to execute 6-month pro bono marketing projects.
This program strives to give volunteers the opportunity to grow their professional skill set and give back to the community. In return, our nonprofit and startup communities have a chance to leverage local marketing talent, develop richer volunteer and donor bases, and evolve their marketing strategies.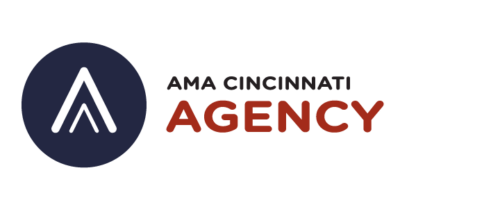 For Volunteers
Sharpen your skills or gain new experience
Build your resume and portfolio
Demonstrate your leadership ability
Network and connect within the marketing, not-for-profit, and entrepreneurial communities
Access project mentors and consultants
Strengthen our local community with your talent and energy
About 10-20 hours of work per month
Participate in kickoff event in January*
Participation in team-client meetings Jan-June*
Willingness to work together as a team, be open to new experiences/learning, and apply your talent to creatively solve a challenge facing a local nonprofit or startup
Attend celebration event in June*
For Nonprofits & Startups
Execute more effectively on your mission or scale your business faster by elevating your marketing strategies
Leverage the expertise of marketing talent in our community
Evolve your marketing strategy
Develop tools and resources to elevate your marketing going forward
Gain visibility on the AMA Cincinnati website, emails, and social channels
Ability to define in your Agency application a business challenge that can be impacted by marketing with measurable results within 6 months**
Participate in kickoff event in January*
Develop a project plan based on your application with your AMA Cincinnati Agency team
Appoint a dedicated point of contact who is able to commit 10-15 hours per month Jan-June
Attend celebration event in June*
Become an advocate for AMA Cincinnati Agency program
$350 fee***
* Meetings are expected to be a combination of in-person, Zoom, and hybrid to maximize participation. We're planning to have the kickoff (Jan) and celebration (June) events in person and will reevaluate as necessary.
** Nonprofits and startups are free to continue their relationship with any of the marketing volunteers after the AMA Cincinnati Agency engagement is completed.
*** Your AMA Cincinnati Agency fee will help defray the operating costs of this program and will not serve as compensation to any of the volunteers. All volunteers work pro -bono during the course of their AMA Cincinnati Agency contract.
We have the opportunity to reach a new population/market – We need help creating a marketing plan or fundraising plan

We want to enhance our brand – We need help rebranding and developing brand guidelines

We need to connect with our constituents via social media – We need help creating and executing a social media calendar

We are developing a new product/service – We need help researching its viability and pricing
We are launching a new community outreach program – We need help planning a kickoff event

We need to drive participation/sales of our products/services – We need help developing a revenue-generation campaign

We are launching a new event – We need help determining what is the best channel mix for outreach

It takes us too long to explain what our products/services are to potential customers – We need help defining our sales pitch or product benefits clearly and concisely