Our mission is to unite marketing talent in Cincinnati, Dayton, and Northern Kentucky with local nonprofits and startups through collaborative marketing projects that grow our economy and build community resilience.
AMA Cincinnati is the essential community for connecting and inspiring marketing professionals across the Cincinnati, Dayton, and Northern Kentucky region. Our members love to meet each other, build their professional networks, and learn about the latest marketing trends, yet sometimes the most rewarding connections are those with people outside of the marketing industry.
This year, we are launching the AMA Cincinnati agency, a community outreach program that pairs groups of volunteers with local nonprofits or startups to execute 6-month pro bono marketing projects.
This program strives to give volunteers the opportunity to grow their professional skill set and give back to the community. In return, our nonprofit and startup communities have a chance to leverage local marketing talent, develop richer volunteer and donor bases, and evolve their marketing strategies.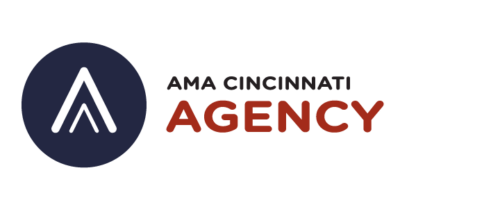 Application Deadline December 6, 2021
For Volunteers
Sharpen your skills or gain new experience
Build your resume and portfolio
Demonstrate your leadership ability
Network and connect within the marketing, not-for-profit, and entrepreneurial communities
Access project mentors and consultants
Strengthen our local community with your talent and energy
About 10-20 hours of work per month
Participate in kickoff event in January*
Participation in team-client meetings Jan-June*
Willingness to work together as a team, be open to new experiences/learning, and apply your talent to creatively solve a challenge facing a local nonprofit or startup
Attend celebration event in June*
For Nonprofits & Startups
Execute more effectively on your mission or scale your business faster by elevating your marketing strategies
Leverage the expertise of marketing talent in our community
Evolve your marketing strategy
Develop tools and resources to elevate your marketing going forward
Gain visibility on the AMA Cincinnati website, emails, and social channels
Ability to define in your Agency application a business challenge that can be impacted by marketing with measurable results within 6 months**
Participate in kickoff event in January*
Develop a project plan based on your ap