Content Marketing Month 2021: Content that Connects
As our professional and personal worlds were turned upside down last year, organizations and individuals were forced to rethink how we connect with those that matter most to us—from customers and employees to coworkers, friends, and family.
For so many, that meant a swift shift in our entire content marketing and communications strategy and a renewed focus on empathy, authenticity, and community.
That's why AMA Cincinnati is excited to present the fifth annual Content Marketing Month in January 2021.
For Content Marketing Month 2021, we'll be exploring internal and external content strategies for building connection, community, and culture, aligning organizations around a shared message & vision, and driving growth through key channels.
How do you craft customer-centric content that builds trust and connection and actually reaches your audience? As internal and external demand increases, how do you scale your content marketing and ensure your efforts are built on clear, effective brand positioning? How can leaders use messaging and content to motivate and inspire their organizations?
With #CMM2021, you have a full month of opportunities to kick off the new year with our award-winning chapter and make sure your content strategy and execution plan are fresh, focused, and ready to move your brand and culture forward in 2021 and beyond.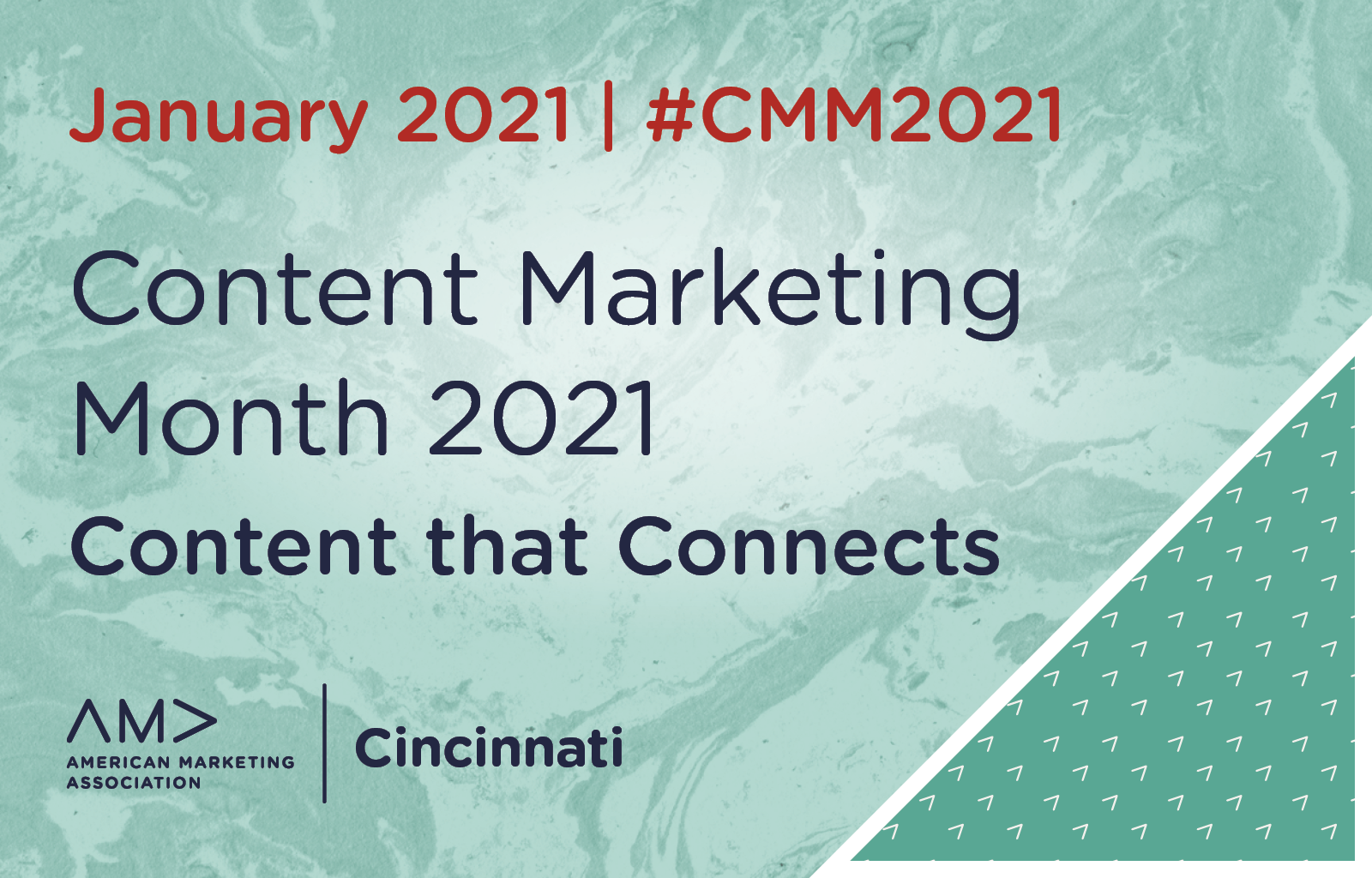 Connection. Community. Cost-Savings.
For the first time ever, AMA members get FREE access to every Content Marketing Month event, including Communities, workshops, and even our Trailblazer Series! This is the best time to become a member and kick off the calendar year with the AMA community.
#CMM2021 Represented Companies:
Learn content strategy from a range of perspectives: from agencies, small business owners, mid-size B2Bs, CPG brand consultants, software & product pros, innovation leaders, and more!
Paycor

Wordstream

The Marketing Collective

Cintrifuse

Intrinzic

Dimalanta Design Group

VEGA Americas

Gaslight