Content Marketing Month 2022: Content that Conscientious
Join us for our sixth annual Content Marketing Month: Content That's Conscientious!
From creating content that authentically resonates to ensuring efficiency in your content marketing strategy, #CMM2022 brings learning opportunities and action plans for content that's conscientious.
Regardless of where you are in your journey – ready to build a dedicated content marketing team or still wondering why to bother with a content strategy – #CMM2022 has what you need to catch up or level up, making content work for you, your business, and your people.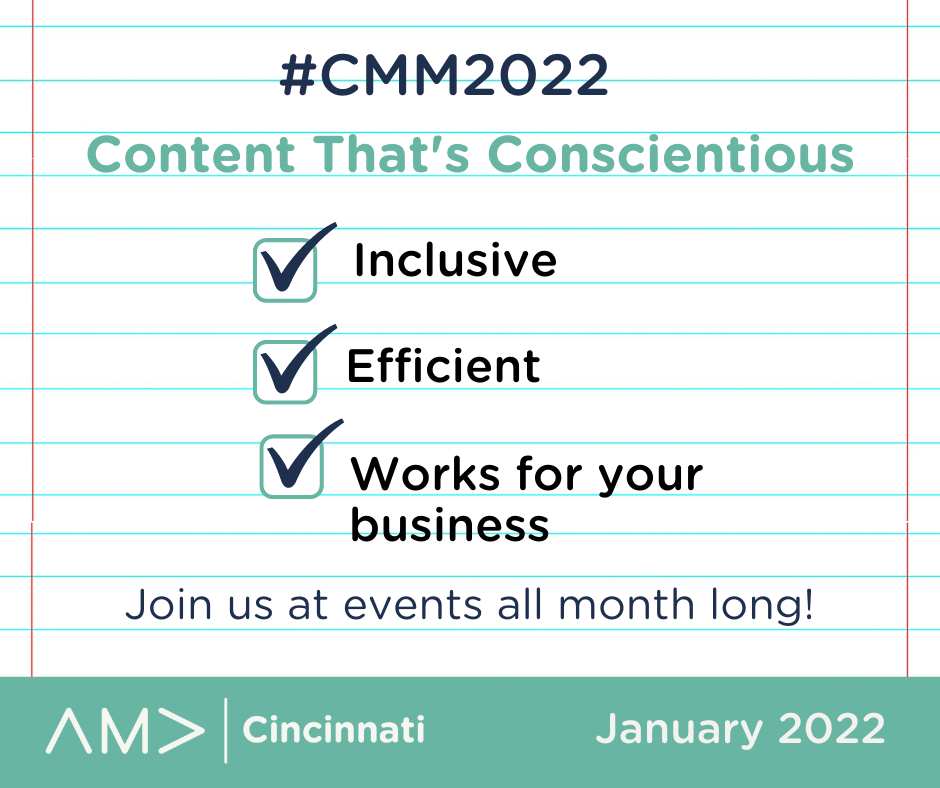 Connection. Community. Cost-Savings.
If professional development is on your list of resolutions for 2022, look no further! AMA members get free access to all Community events during #CMM2022 and all year round, as well as discounted rates for events like workshops and our Trailblazer Series. And ICYMI, membership for a full year costs only $149! This is the best time to become a member and kick off the new year with the AMA community.
#CMM2022 Represented Companies:
Learn content strategy from a range of perspectives: across B2B, B2C, non-profit; in-house marketers, agencies, and more:
Kroger Precision Marketing

Cerkl

The Gorilla Glue Company

Busken Bakery

Invotec

Nonprofits such as The Harriet Beecher Stow​e House

And more companies to be announced!
#CMM2022 Topics Covered:
Developing a distinctive brand voice

Determining your content mix

Creating content that captures attention and drives action

Employer branding

Creating content to attract diverse candidates

Expanding your content team through internal and external resources

Reusing/repurposing content

Leveraging first-party data

Personalization in advertising

And to be announced!
The month will be full of events and learning opportunities to empower marketers, business leaders, and professionals across disciplines to drive growth for their organizations through inclusive, conscientious content.
Event Schedule & Registration
#CMM2022 Events Schedule
B2B Marketing Community
Panelists: Sarah Speltz, Invotec; Marce Epstein, OhioGhostWriter; Azurdi Swehla, Creatives On Call
Thursday, January 6, 2022
7:45 – 9 a.m.
Digital Marketing Community
Panelists: Emma Hundley, Cerkl; Melanie Blumental, Gorilla Glue; Abigail Zhang, Harriet Beecher Stowe House
Wednesday, January 12, 2022
11:30 a.m. – 1:00 p.m.

Grab a cup of coffee and chat about your professional and personal goals for 2022!
Thursday, January 13, 2022
8:00 a.m.

Marketing Research & Insights Community
Speaker: Chelle Precht, Complete Research Consultants
Wednesday, January 19, 2022
12:00 p.m. – 1:30 p.m.

Featured Speaker: Cara Pratt, Senior Vice President Kroger Precision Marketing
*THIS EVENT HAS BEEN POSTPONED. A NEW DATE WILL BE ANNOUNCED SOON!
Consumer Brand Marketing Community
Speaker: David Fagin

Tuesday, January 25, 2022
11:30 a.m. – 1:00 p.m.

Gain valuable job search tips and grow your network

Wednesday, January 26, 2022
12:00 – 1:00 p.m.