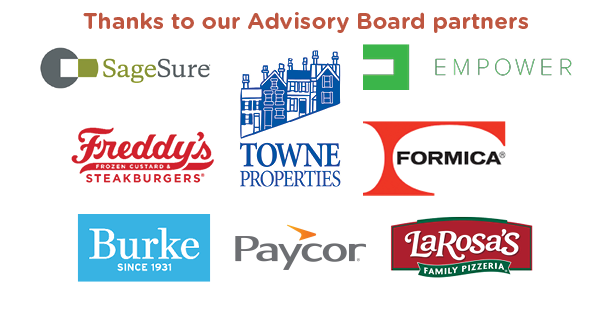 As we look ahead to the return of AMA Cincinnati's IGNITE! Conference this April, we're excited to introduce our IGNITE! 2021 Advisory Board.
The marketing leaders on the Advisory Board have played a significant role in steering our 2021 marketing and customer experience conference. They've helped AMA Cincinnati identify industry trends and shape content to facilitate greater engagement with the regional marketing community, sharing their perspectives, knowledge, and know-how to build a best-in-class conference and attendee experience.
We talked with the Ignite Advisory Board members about their "why" for getting involved with Ignite as our strategic partners. Their answers will give you a glimpse into the many reasons to get fired up about this year's conference!
Ideas
This year's keynote speakers will provide thought-provoking ideas to refresh and inspire your own approaches to CX. 
"I am thrilled to be participating in the IGNITE! Marketing + CX Conference this year. It can be a challenge to step away from daily responsibilities and projects, but conferences like IGNITE! provide an opportunity to hear from thought-leaders and connect with other marketers to learn new ideas and new approaches to communicating our brand to Guests.

Additionally, participating on the Advisory Board has been a new experience. I've really enjoyed the process and getting to know the other Advisory Board members was a nice bonus!

–Megan Torbeck, Director of Marketing, LaRosa's Pizzeria, Inc.
Across an intersection of professional expertise, Ignite conference content will be relevant for marketers and CX professionals alike, no matter your function or business model. 
"I'm participating in IGNITE! for the opportunity to hear from speakers across multiple disciplines. Lots of conferences focus on one or just a few types of business models, where this conference can be beneficial to just about any business. It's also a great opportunity to network and get ideas from outside your own industry."

-Michael Wilke, Marketing Strategist, Towne Properties 
Inspiration
You'll gain insights from experts in five different tracks, including Creating Value, Eliciting Engagement, Harnessing Technology, Motivating People Power, Discovering Customer Insights. 
"Participating in IGNITE! as a member of the Advisory Board provides the opportunity to draw on the expertise of other board and committee members, contribute through a dynamic development process, and share knowledge and insights with all of the speakers, sponsors, and participants. 

At the most basic level, marketing is the process of understanding your customers, and building programs to maintain relationships. The content featured during IGNITE! brings together the art and the science of how to inspire and positively influence the customer experience."

– Gina Leranth, Director, Customer Marketing and Retention, Paycor
Interest
Take a break from your usual routine. Attending IGNITE!  will give you a fresh way to interact (virtually) with other attendees across the region. Learn from your peers, in addition to the presenters, to broaden your understanding and scope of the marketing and CX field. 
"Participating in IGNITE! allows me to network with colleagues in my field, both on a regional level but also more broadly this year. The conference will offer thought provoking content about customer experience, of which I am most drawn to themes around creating value and motivating people power. Creating a robust customer experience, now more than ever, is critical to success."

– Molly Kroeger, Senior Marketing Manager, Formica Group North America
In-depth Intel & Information
With speakers and presenters from the Cincinnati region and across the globe, Ignite attendees will hear from thought leaders, participate in interactive exercises, and come away with an actionable understanding of how to implement new approaches. 
"IGNITE! is a powerful program that inspires and educates attendees with real-world lessons. I still have chills from past keynote presenters that have graced the global stage.

IGNITE! has left an imprint on my career so I was delighted to join the advisory board to help shape the content and speaker selection. I have no doubt it will be an event to remember as it always has been."

– Meghann Craig, Vice President of Marketing, Empower
Influence
Credibility is key to continued professional growth and success. IGNITE! makes it easy for you to demonstrate your dedication to continuous learning. That credibility is connected to your ability to influence discussions and decisions within your organization. 
"I'm so happy to have the opportunity to be involved in the 2021 IGNITE Marketing + CX Conference this April presented by AMA Cincinnati.  The team has worked so hard to provide an amazing cross section of speakers, workshops and interactive sessions that will inspire teams across all areas of your organization.

Whether you're interested in driving engagement, harnessing technology, motivating your team, or discovering insights directly from your customers—there are sessions for you.  Join us virtually as we IGNITE our curiosity and learn together."

– Hallie Montague, Vice President Marketing Strategy and Campaign Development, SageSure Insurance Managers
Interaction
True, we're living in a virtual world. Yet, we've designed a schedule to make it easy for you to integrate the marketing and CX conference into your professional and personal life. We know the value of attending a conference is also aligned to the people you meet. And we're planning to make that happen in a fun, human-centered way.  
"I love connecting with and learning from others, especially other marketers, and the quality content is a bonus. It's great to interact with folks from all walks of marketing – product managers, content creators, customer success owners, B2B, B2C, agency, brand – to help keep the work I do in consumer insights and brand strategy in context of the broader picture.

And this year, I'm especially excited to connect with folks beyond the tri-state region, as our virtual format opens the door to national participation in the event."

– Maggie Ledbetter, Associate Account Executive, Burke, Inc. 
You're Invited…
Join us on April 20-21 for the 2021 Ignite Conference: Marketing + CX Cross Training! We're working to create our own magic CX touches for attendees, and we can't wait for you to experience this event with us!
---
Looking for an opportunity to make an impact, gain exposure, and grow from the experience? Read more about getting involved with AMA Cincinnati!