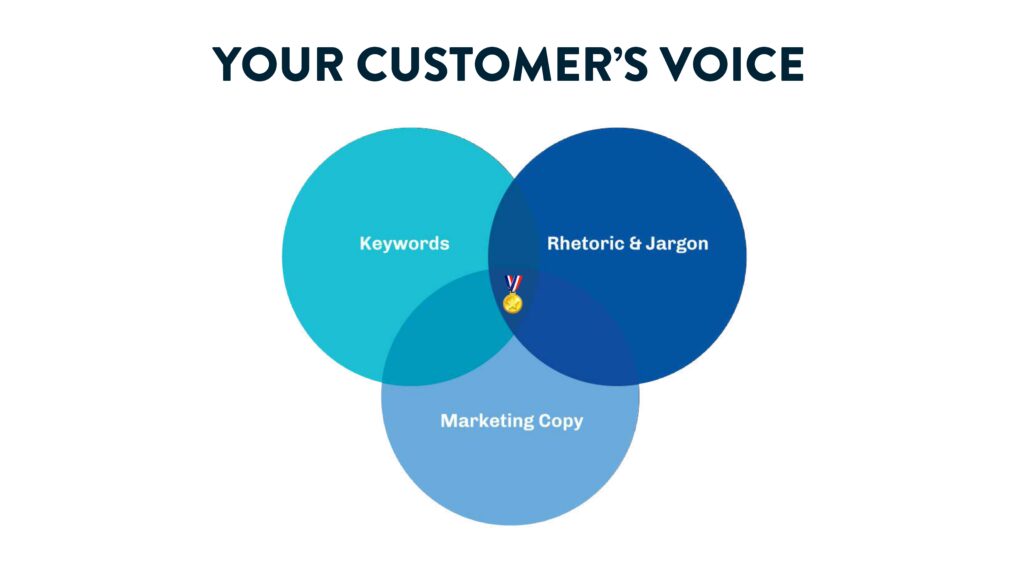 By: Zach Wilson, Gulo
When you truly understand your customers, you can design a website that delivers precisely what they need. Let's explore how empathy impacts the effectiveness of your website.
Do you understand your customers' concerns? 

Do you know what they want from you and your company?

Are you using their tone and language in your copy?
What do we mean by empathy in web design?
Empathy in website design is the understanding of another's emotions and experience as they visit your website. It means that we understand what the user feels and thinks about your product. Great website design focuses on the user's needs, feelings, experiences, and outcomes. 
We also want to consider any challenges customers may face as they browse our website. How long does it take them to find the information they need? Do they reach their desired goal? How easy was their navigation experience?
Clearly define the goals for your marketing website.
When planning a new marketing website, many people get caught up in brainstorming ideas for advanced features. But features and images are not the best starting point—you should first list your goals and objectives for the website.
Every website, and every section and page of your website, should have one primary goal. 
Here are some common goals we see with industry websites along with things to consider when planning your own website redesign.
Goal #1: Increase sales
SEO (Search Engine Optimization)

Well-organized content

User-friendly navigation 

Strong calls to action
Goal #2: Become an industry authority
Provide helpful, informative, quality content on your website

Regularly add new information

Find ways to communicate clearly and establish trust
Goal #3: Improve the customer experience
E-mail marketing lists

Online support (live chat)

Webinars

High-quality content that is designed to give visitors a reason to return again and again
What do you want people to do on your website?
When developing your website goals, it's vital to consider your ideal customer. Our clients often say, "Our customers are diverse," but it's important to remember that a website aimed at everyone will very likely attract no one.
Your website content needs to appeal to your ideal customers. They should easily understand who you are and what you do. Use very clear language to communicate your value. 
As you're writing up your website plan, keep this question at the forefront of your mind: How can you solve their problems? 
Make it easy for your customers to take the next step. For example, if you build houses for people, don't get cute with your marketing messages. Avoid saying things such as, "We make dreams come true." What does that mean? Artsy slide shows, cute animations, and vague industry slogans are not likely to communicate your value. 
How does empathy fit into website design?
Considering empathy in the website redesign process requires you to set aside your assumptions. It's human nature to assume that your website visitors will think and feel the same as you do, but this isn't always the case. 
The first step in designing with empathy is to suspend your view of your company and your website and begin to see things through your users' eyes. 
By becoming a better listener and putting yourself into your customers' shoes, you'll be able to design a website to match their needs and expectations. That's where the real power lies.
Use keywords and search terms effectively.
The language you use is critical when trying to communicate your value to customers browsing your website. Often we find clients overuse industry jargon, marketing catch-phrases, and SEO keywords in their website copy. Remember that real people will be reading this and trying to determine if they want to work with you or not.
While we do need to use SEO keywords and industry jargon occasionally, be sure to search your website with the fresh eyes of a new visitor. Use language and phrases that your customers use, and you'll connect with them quickly and easily.
Google Analytics can give you all the information you need to design a user-focused website with empathy. Other tools that come in handy are Hot Jar, Crazy Egg, and Click Tail.
In summary
A beautifully designed, artistic website is rarely enough to achieve your marketing goals. It's a good idea to start your website project plan by listing your site's strategic goals and objectives.
When you establish a realistic list of goals for your marketing website, as well as keeping your ideal customer in mind, you'll significantly increase your chances of online success.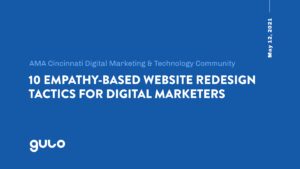 BONUS CONTENT! Zach recently talked with our Digital Marketing & Technology Community on 10 Empathy-Based Website Design Tactics for Digital Marketers.
Download the slides from his presentation to read more!
---
Zach Wilson is a Managing Partner and Chief Strategist at Gulo, a website and digital marketing agency based in Chicago and Cincinnati. Zach loves the creative process: making beautiful, high-performing marketing websites and working with other marketers to learn new tricks of the digital marketing trade.
Gulo's services include web strategy, web design & development, and digital marketing, which includes SEO and conversion optimization. Follow Gulo on LinkedIn and on Twitter at @gulorocks.