It's early summer of 2004. I'm attempting to walk my dog on a June morning, and there is a loud, vibrating drone that crescendos, diminishes, crescendos and diminishes again. It's dizzying, actually.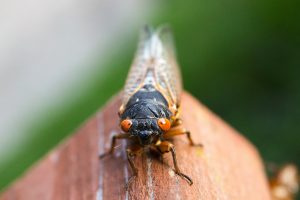 It was the Brood VII cicadas.
For those who remember that summer in Cincinnati, it was a traumatizing few weeks. Walking past a tree was an invitation to be swarmed by the biblical-plague-like creatures. I don't think I opened my mouth while outside for fear of a cicada flying in. Those who have lived through a cicada summer may remember the crunchy shells left behind …. everywhere … for weeks after the plague.
Needless to say, that walk with my dog on that June morning in 2004 was a short one.
Now …
While the cicada summer of 2004 is long gone and we're still a few years away from the emergence of the next major brood in our region, I find myself bemused by the cicada in the summer of 2018. Cicadae live their lives completely out of our sight for more than 15 years, only to come up from the earth or out of trees, be loud, eat, and thrive, then start the process all over again.
In a way, AMA Cincinnati is like a cicada. Hear me out: We wrap up a chapter year with a big party at our Pinnacle Awards, then "burrow" for a short while, closing out our annual budget and plan, taking stock of successes and areas needing to be improved upon, reviewing membership survey results, working together to prepare for a new year of engaging and serving the Greater Cincinnati marketing community.
After some work underground, AMA Cincinnati is surfacing for the 2018-19 year, and we are ready to take flight!
We are implementing some new programming while innovating some of our "classic" offerings for better quality engagement and knowledge sharing. Over the course of the year, we might shed some skin here and there (those crunchy shells), growing out of older approaches and into new ones. And that's okay.
So … won't you take flight with us?
Here are a couple things I recommend you make note of now as the 2018-19 AMA Cincinnati year takes flight:
Meet Our board
Our board is working hard among each other, volunteers, partners and future speakers to execute thoughtful, intentional programming that helps the regional marketing community grow their knowledge and get better at their craft.
About 70 percent of our board members are returning, and a few new board members have joined. You can view them on the board roster. Get to know us by connecting on LinkedIn or drop us a line at our AMA email addresses.
Put these on your radar (and calendar, as applicable)
Our IGNITE! Conference on Friday, Sept. 21
Whether you call it a convergence or intrusion, more and more marketers are now on the hook for delivering results around customer experience. Our IGNITE! Conference is the best place for your to build your foundation of CX knowledge while seizing opportunities for deep dives on specifics like insights and research, corporate strategies, or engagement and advocacy.
Learn more at IgniteAMA.com and make sure you snag your SUPER Early Bird Ticket by midnight on Friday, July 20!
Communities (fka "SIGs")
Among the best place to knowledge-share and network in an intimate setting while acquiring essential tools you can bring back to your work are our Communities (formerly known as Shared Interest Groups). Over the past year, we've realized that this part of our programming offers more than just an educational tune-up for marketers. These groups have become communities, so we've updated the nomenclature to reflect that. For our regular attendees, you may also see some new faces as your facilitators and hosts!
Be sure to check out our many Communities to connect with our many kinds of marketers, all summer long:
Business-to-Business (B2B) Marketing Community
Digital Marketing & Technology Community
CX and Sales Enablement Community
Marketing Research Community
Job Transition Community
Don't worry, this isn't the only programming we have in store. Details about more events will be released soon.
Join Our Ranks — Volunteer or Become a Partner!
If you've been to an AMA event, you could practically finish this sentence for us: We cannot do what we do with the Greater Cincinnati marketing community without our volunteers and partners. They help our chapter run like a real business.
Our many volunteers put in their time and talents to help us book relevant and engaging speakers, facilitate workshops, execute events like IGNITE! And the Pinnacle Awards, facilitate networking, and even stay up late to write our weekly emails! There is always work to be done, and we are certain anyone with an interest in volunteering and a heart for teamwork can find a way to contribute meaningfully. We'd love you to join our ranks. Inquire about volunteer opportunities with Afton Palmer, our VP of Talent Management.
Our board and volunteers will attest that getting involved is the #1 way to get the most out of your membership (and grow your skills, gain new mentors, grow your network, etc., along the way!).
We also have partners with whom we work to take care of anything and everything from graphic design to print needs and signage to website maintenance to event space and beyond. In turn, these partners get special perks, privileges and unique exposure among our local marketers. If you're interested in pursuing partnership opportunities with us, contact Juri Tults, our VP of Partnerships.
Is your adrenaline pumping yet?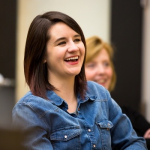 Mine sure is! It is an honor to get to work with an amazing board and group of volunteers and partners to help the regional marketing community do and be more. I fell in love with AMA when I joined five years ago … and once I started volunteering, I couldn't stop. I tell people that *this* (AMA) is *my* grad school as a professional marketer, and, for me, this year is like working on and writing my thesis!
The real work is just getting started. Stay tuned for more updates in the coming weeks! Until next time …
Suzanne