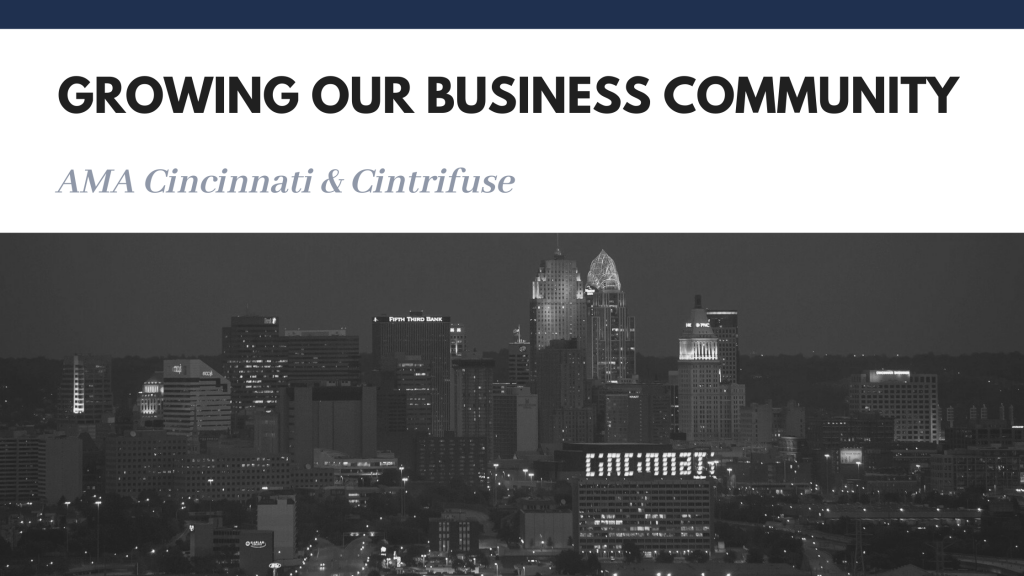 AMA Cincinnati, like our parent American Marketing Association, is grounded in a core set of values: service leadership, content-driven knowledge sharing through a highly relevant intellectual agenda, and experience-rich community. As part of this mission, we are proud to partner with organizations around Cincinnati to support the growth of our members and the greater Cincinnati business community. This has become even more important with the challenges brought on by the pandemic and current economic situation. 
One organization AMA Cincinnati has recently partnered with is Cintrifuse. The AMA Cincinnati and Cintrifuse partnership is designed for the startups in Cintrifuse to have AMA Cincinnati as a resource in their marketing efforts. 
Why Cintrifuse? 

The alignment of Cintrifuse's mission and the mission of AMA Cincinnati is what makes this partnership so valuable. Cintrifuse aims to stimulate the economy and invigorate the business community much like AMA CIncincinnati aims to generate business, work, innovation, and fun in the marketing community. Marketing is key to startup companies' successful commercialization and should not be an after-thought. This will be addressed by AMA in the partnership. 
What can you expect?
To kick off this partnership, our organizations are offering a series of workshops to broaden the marketing skills of entrepreneurs in Cincinnati. 
Our first virtual workshop, Be Remarketable! How to Establish a Foundation for Marketing Success, will take place on October 21st starting at 9:30 AM. 
In this workshop, you will find out if your strategy is missing any of the six core business elements and get the answers you need to set your business up for marketing success. You'll learn from business strategist Stacy Kessler what these six core business elements are, why they're important, and discover which ones could use some attention in your business in order to rock your marketing and grow.
The workshop is free to attend and anyone can take advantage! People who will benefit include entrepreneurs and business owners looking to grow their small to mid-sized businesses. Learn more and sign up here.
 
Cintrifuse helps to broaden the awareness and market for AMA Cincinnati.  We are excited to get this partnership started and build upon it in the future!