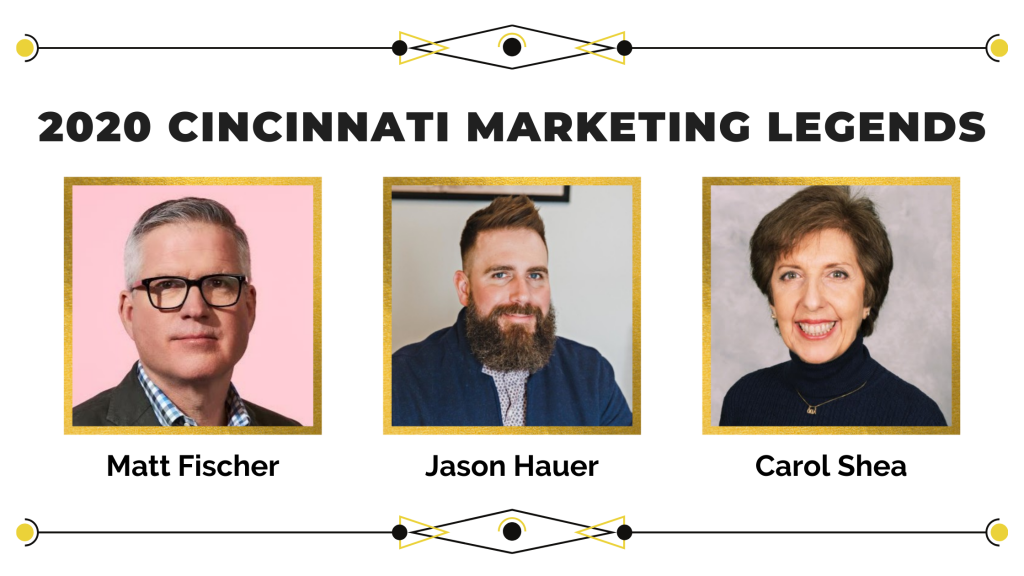 Each year, we bring together our previous classes of Cincinnati Marketing Legends to review nominations and select the newest class of Legends. At the 2020 Marketing Pinnacle Awards ceremony on September 24, we were honored to announce our fourth class of Cincinnati Marketing Legends: Matt Fischer, Jason Hauer, and Carol Shea.
Matt Fischer
CEO, Curiosity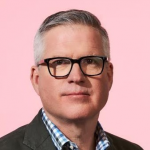 Matt Fischer, CEO of Curiosity, is a top-tier creative and marketing executive with extensive experience in the world's leading marketing communications companies and agency management. He has a proven track record of creating award-winning, highly effective general, direct, and interactive communication programs, including social media, that drive business results and build brand value.
Throughout his career, his accomplishments reflect a high level of strategic thinking, superior knowledge of 360º communication processes and procedures, creative acumen, and a collaborative team-building style.  
Why Matt is a #CincyMarketingLegend
Matt's nomination reads, "Over his career, Matt has had to reinvent himself multiple times, has volunteered in professional organizations, and his work/leadership of others is top notch.
The really great thing about Matt is that he gives back; speaking in my class as a guest and offering help to my students about the industry and career paths. Others of his caliber have a 'too important' mindset for this, which is why Matt's involvement to help others truly makes him a marketing legend."
Join us in congratulating Matt on LinkedIn! 
Jason Hauer
Co-Founder & Chief Growth Officer, The Garage Group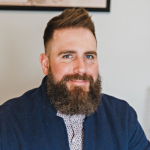 Jason Hauer, Co-Founder and Chief Growth Officer at the Garage Group, is known for helping BigCo leaders, clients, and colleagues strike out of their comfort zone and hustle persistently to make progress. As an experienced entrepreneur, growth hacker, and F2000 Lean Growth Strategist, Jason teaches and empowers leaders to adopt a growth mindset, so they can stay relevant and grow. His relatable style has enabled many leaders to become more courageous as they learn to create new opportunities in the face of uncertainty.
Jason is a Lean Startup Circle and Product Camp organizer. You'll find him frequently speaking and writing about customer development and business model innovation.
Why Jason is a #CincyMarketingLegend
Jason's nomination reads, "Jason is an incredible leader in the Cincinnati community. He has built an impressive brand at the Garage Group from the ground up through relentless relationship building, ultimately reaching the Inc 500 list. He is paving the way for the future of marketing that is founded in rapid experimentation rather than proven playbooks, marketing that is truly interwoven with sales, and a growth mindset. 
Jason is a pioneer in marketing as it relates to community building and growth hacking. He is a true leader by example, showing exemplary attention to detail for the things that matter — the things that build and strengthen brands in the true-est ways. 
Jason identified a need for community within the Cincinnati region and when he couldn't find it, he developed it from the ground up — Courageous Minds Only has now impacted 1000+ large corporate leaders across the country and has drawn impressive crowds to come together for courageous, brave and honest conversations about leadership, marketing, and brand building."
Join us in congratulating Jason on LinkedIn and Twitter at @jasonhauer!
Carol Shea
President, Olivetree Insights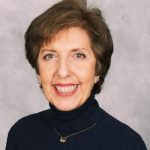 Carol Shea created Olivetree Insights from a lot of passion and a bit of frustration. She saw that as data was becoming easier than ever to access, business leaders were losing faith in researchers' ability to translate data into actionable insights. There was a gap between being able to quickly get MORE information and getting the RIGHT information – the ROI simply just wasn't good enough. Something had to change.
That's why for over three decades, Carol has dedicated her career to empowering diverse companies to become more customer-centric and championing their efforts to conduct better research and boost the ROI.  
Why Carol is a #CincyMarketingLegend
Carol's nomination reads, "Carol Shea has spent the past 30+ years impacting the face of marketing research and consumer insights in Cincinnati. Her boots-on-the-ground research has improved business in almost every industry in the Tri-State region. Carol spreads and shares her wealth of knowledge by serving as an adjunct faculty member, giving conference speeches, and even advising the U.S. Census Bureau. As a volunteer, Carol again proves herself as a benchmark for excellence.
We can define 'Legend' in so many ways. Looking at the professional success, volunteer excellence, and loving impact she has made on our city, I fully endorse and recommend Carol Shea as a Cincinnati Marketing Legend."
Join us in congratulating Carol on LinkedIn and Twitter at @olivetreecarol!
Congratulations Matt, Jason, and Carol, and thank you for everything you've done and continue to do to make a lasting impact on the profession of marketing and the city of Cincinnati!