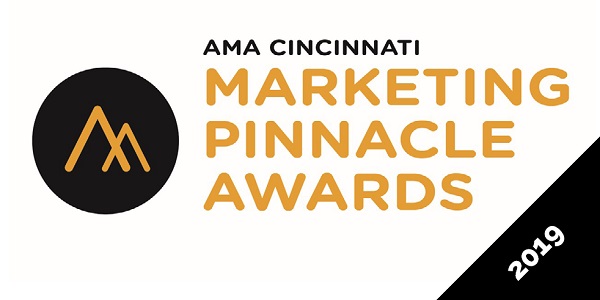 Updated 5/15/2020: We have new processes and categories for the 2020 Pinnacle Awards! Read more here.
If watching the Grammys and the Oscars gets you in the spirit of pursuing great things and being recognized for your work, AMA Cincinnati has a treat for you … The chapter is excited to kick off the submission period for the AMA Pinnacle Awards! This awards program recognizes excellence in Cincinnati's vibrant marketing community.
Below are some quick details you need to know and some answers to Frequently Asked Questions.
Quick details
Categories
Best "Non-Marketing" Marketing Program

Best Collegiate/Student Marketing Plan, Campaign, and/or Program

Best Brand Launch or Rebranding Effort

Best Content Marketing

Best Customer Experience Execution

Best Digital Strategy & Execution

Best Integrated Marketing Campaign

Best Sales Enablement

Best Scrappy Marketing Campaign

Special Merit: In-House Warriors

Special Merit: Research or Insight Catalyst

2019 Cincinnati Marketing Legends
View all categories and descriptions here.
Dates to know
Early deadline: Friday, April 5, by midnight

Regular deadline: Friday, April 12, by midnight

The Party: Thursday, May 30, at the Woodward Theater
More details and registration for the event will be available in the coming weeks.
Frequently Asked Questions
Who can submit for an award?
If you work in marketing in the Greater Cincinnati region, you and/or your company can submit work to be considered for an award for any of the categories.
How many categories can I submit for?
You can submit for as many categories as you'd like. In fact, we encourage multiple submissions — each submission after the first one is half the cost.
What are the rules?
View all official rules here (under General Rules & Information). But the quick things to remember are:
Work submitted must have occurred in the 2018 calendar year, unless otherwise noted.

All submissions require a completion of the payment form.
What does a submission entail?
A submission constitutes of the following:
Summary of no more than 1,000 words detailing the project, campaign or initiative that is being submitted.

"Proof" — This can be anything relevant to the submission — PDFs of creative, videos, audio files, screenshots or dashboards of metrics, etc.

Payment — the payment form is completed and money received by AMA Cincinnati.
View all instructions and how-to here (under How to Prepare & Submit).
There were multiple teams that worked on a project. How do I share that in the submission, and what does that mean for awards?
We understand that there may be multiple agencies involved in a marketing campaign or initiative. Work together and submit together, we say! If you know you'd like to have multiple copies of certificates printed, one for each agency and the client, please make that known in the body of the email to share your submission Summary and Proof. Designate the desired number of certificates and the company to be named on each respective certificate.
AMA Cincinnati provides one glass award per winner. If a winner would like to purchase more awards, the chapter can provide the appropriate contact information for that winner to do so at their own convenience and expense.
Who judges the submissions?
Many AMA chapters have their own awards programs. We often help each other out by judging each others' submissions. It keeps things as objective as possible while also distributing the work involved with judging — a group of 5 to 10 people may have to judge more than 50 submissions! Finally, it keeps it fun. Someone from AMA Chicago could be looking at work from Houston and vice versa.
The AMA chapters confirmed to help AMA Cincinnati this year include AMA Omaha, AMA Alaska and AMA Charleston. There could be more to come!
Pro tip: Write your submission for someone who is "out of market," as if they've never been to Cincinnati and you are telling them about your work for the first time.
Why is there an "early" and "regular" deadline?
The chapter has almost always extended deadlines in previous years. Additionally, different chapters are available to accommodate different volumes of submissions at different times. Instead of moving dates here and there, we decided to keep things simple by offering an "early" and "regular" deadline for submissions. There is no preference given to early or regular submissions, it is just to best accommodate the volume of submissions as they are distributed among chapters for judging. You will notice, however, there is a price incentive for those who take advantage of the "early" deadline.
Pro tip: Take advantage of the price incentive and try to submit for the "early" deadline. We also recommend that, if you are submitting for more than one category, you fill out the payment form once and select the appropriate number of total submissions to get the benefit of reduced pricing.
Will winners be notified or revealed before the ceremony?
A few years ago, the chapter tried to pull off a "closed envelope" reveal of the winners. It was a lot of work, secret-keeping, and quality assurance, but it was a hit! We will continue that tradition this year. Finalists will be notified and recognized in advance of the ceremony (target is early May) and the winners will be revealed at the ceremony. So, get your acceptance speech ready!
Wait, winners have to give a speech?
No, it is not required to give an acceptance speech if you are selected as a winner. Here's how it works: At the ceremony, when the winner for a category is revealed, a representative from that winning company will come to the stage to accept the award. We invite that representative to say a few words if they wish (less than a minute), after which they can sit down to enjoy the rest of the ceremony. There will be a time and space for team pictures at some point throughout the evening, as well.
In addition to an actual award, winners will receive a digital icon that designates them a Pinnacle Award winner that can be used on websites or other future marketing material.
Finally, all winners are invited to celebrate their achievement in whatever way they wish with their teams and respective companies — in real life and on social media. AMA Cincinnati will distribute a press release and offer coverage on our blog and social media channels. We also invite our winners to spread their wealth. Want to write a blog post about your winning project? We'd love that! Want to present at a future event? We'd love that too! In a way, winners become more connected to the talented marketing community in Cincinnati.
What is the ceremony like?
So. Much. Fun. We try to make it like Marketing's Big Night. Teams often get a table to enjoy the evening. We are working on securing an MC for the program part of the evening (have any leads? Let us know…). Even if you don't want to submit work, it's a not-to-miss event with lots of networking opportunities, dinner and drinks. All are invited.
Can I volunteer or sponsor?
YES! We need volunteers for anything from communications to helping at the event. Know someone who has a connection to a red carpet? Are you an expert proofreader? Want to get your company's name out there in a meaningful way? We have lots of roles and opportunities for volunteering, in-kind partnerships and cash partnerships. Contact us at Pinnacle@AMACincinnati.org to get started.