How to run a conference (yes, really)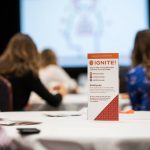 Our chapter is still on a high from our IGNITE! Conference in September. Our board and volunteers hustled for months, hustled even harder in the weeks leading up to the conference, and even activated some last-minute volunteers who jumped in on the day of to make the conference a worthwhile, high-value event for attendees (at least, that's what many shared in their surveys).
But all of this afterglow within our chapter is not without a few lessons. We put a lot of pressure on ourselves that, considering the conference was about customer experience, it only behooves our chapter to put on an event that would greatly–may I say, delight–our attendees.
Take it from a group of people who have "been there," these are the things you need to watch out for when you're planning a conference or a large, multi-speaker, multi-faceted event.
Get more of everything, earlier in the process.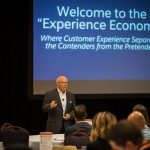 Nailing down our keynote speakers (many of which were not in town, and required coordination of schedules for calls, convincing, negotiating, and more), paging through the dozens of applications submitted to be a keynote or track speaker, and having long discussions about how and where everyone could be placed in a day's schedule and be relevant for the overall theme–left us short on time to do more of the "fun" things we get to do with speakers.
Those "fun" things include accumulating more blog posts, having Q&A blog posts to help everyone get to know the speakers better, creating meme-like graphics to share on social media. Having more of everything, earlier, can help ensure enough time is spent promoting and getting your target audience familiar with the keynote and track speakers they will be inspired by throughout the day.
If it's your first event, know what you're up against.
Perhaps the most difficult task in the promotion and communications of IGNITE! was writing the prompts and copy that could help someone visualize themselves being at the conference. We didn't have testimonials, photos, are built-in momentum from the previous year to use. We had to tap our creative-writing-class-skills and exercises and help paint a picture. For some, that worked.
Pace out the day–especially downtime or transition time.
Ah, the logistics goods! The 20 or so minutes spent imagining an attendee's experience from picking up a nametag and bag of goodies from the registration table to getting their drink at the closing happy hour reception were among the best 20 minutes spent on conference prep. A conference attendee still has their phone buzzing like any normal day with emails, calls and anything happening back at the office. Building in enough downtime and transition time between breakout sessions for attendees to take care of any back-at-the-office needs, get comfortable in a new session, maybe meet a few new contacts, and finally be able to be present for the next session is an absolute conference "must."
Balance out the day.
You can't have a day of only inspiration, but you can't have a day of all workshops and practice drills. But you can offer both. Talking with the speakers ahead of time and becoming fluent in their presentation style, topics, and flow allows you to schedule sessions in a way that allows your attendees to choose their own adventure.
Always have coffee. And water. (Okay, snacks too)
Be kind to your attendees. Give them caffeine and brain food (budget allowing) throughout the day. The are sitting and absorbing information, which actually takes about as much energy and concentration as a typical workday. Have nourishment on deck. If you're concerned about budget, coffee, drinks and snacks is a straightforward sell for a potential sponsor or partner. The sponsoring company will be adored and appreciated.
Spend the money on the SWAG.
Again, this depends on budget, but nothing creates a sense of FOMO like hearing that there is a limited amount of conference T-shirts (or any desirable item), or that the first 100 people get headshots taken for free. It's a way for attendees to take the conference with them out into their everyday life.
Mark your calendars for IGNITE! 2018 on Friday, September 21, 2018. Early Bird Registration will be announced soon!
Save
Save