Harnessing Fire: The Magical Feeling of Practical Excellence
Gina Bonar, AMA Cincinnati President 2016-2017
Practical excellence is no trick. It's hard, sometimes relentless, work. But when done for the right reasons with the right people, it truly can feel like magic. You must have felt it too! It was the spark of a solid plan, the fuel of a connected team, the power of deep functional expertise, the acceleration of audacious goals, and the delight of watching the magical impact materialize while you're still stoking the flames.
AMA Cincinnati 2016-2017: It's Magical
We started the 2016-2017 Chapter year talking about Magic, inspired by AMA CEO Russ Klein, who said,
"positivity and optimism are the stuff of magic. It's the magician's elixir and the opening to possibility thinking which is the stuff of transformational creativity." (Get to know Russ here.)
Since then, we have been doing the creative, diligent work of transforming "possibility thinking" into reality for the Cincinnati marketing community. If you've followed us at all in the past year, you probably know that we have been building on a lofty foundation. In the prior year, we swept the Chapter Excellence Award categories with recognition across all five disciplines: Leadership, Finance, Communications, Programming and Membership. This solidified us among the top handful of the 75 Chapters across North America, and a driving force for practical excellence here at home.
Practical Excellence Defined: From Spark to Flame to Fired Up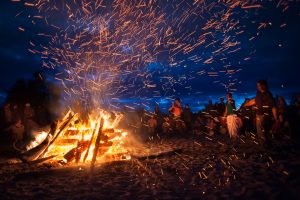 The marketing community in Cincinnati is sophisticated, diverse, innovative, prolific, and demanding. Serving its many constituents all at once – and one at a time – is a challenge and a thrill. What's in that potion? It's chock full of smarts, grit, tenacity, sass, curiosity, experience, listening, leaps of faith, and genuine dedication. But what are some of the more practical ingredients?
Essential Value Exchange:
Custom Content – Feedback consistently highlights the value and importance of practical takeaways. Over the past year, we designed content collaboratively with speakers and partners specifically for our audience at each workshop and Signature Speaker Series. Take, for example, our Content Marketing Month Resources, originally available only to attendees, now released exclusively for readers of this blog.
Valued Partner Pages – Newly released, our Partner Pages provide information and links to some of the region's strongest service providers, who help this non-profit-volunteer-run organization serve our community with the expertise of a world-class business. Check out our Chapter Partner Page and jump to individual pages where you see "Read More"!
Extended Voice & Visibility:
Cincinnati Edition – With the caliber of speakers we bring to the Cincinnati marketing community, we had the opportunity to connect our Signature Speaker Series headliners to a broader audience via WVXU/WMUB's Cincinnati Edition each month starting in January 2017. Check out the podcasts linked below, and listen for the next one coming soon!
Soapbox Cincinnati – Local media took notice when we launched our new brand in August, and kept track as we continued to drive important conversations in the community. Read articles:
Essential Connections & Community:
Coffee & Conversation – In our continuing quest to deliver clear and personal value to our members, we added an informal gathering each month as a way for new and prospective members to determine their interests, learn how to get involved, meet some of our leaders so that they always know someone in the room, and meet fellow community members new to AMA. Our next Coffee & Conversation is on August 10. Let us know if you'd like to join.
Active Communities – Inclusive & Thriving
Collegiate AMA chapters at Xavier University and University of Cincinnati increased their involvement with AMA Cincinnati, making a vibrant impact on our Professional Membership.
With high-impact monthly events including Recruiter Panels, Resume Review Sessions, Speed Networking and Social Happy Hours, our community of Young Professionals keeps a strong focus on development of the individual marketer… and FUN!
Our CMO Roundtable, in partnership with Cincinnati USA Regional Chamber, continues to meet bi-monthly and foster strong bonds with the essential community of Marketing Leaders around town.
We have a consistent flow of regulars and new joiners in each of our five Shared Interest Group (SIG) communities, including B2B Marketing, Marketing Research, Digital Marketing, Sales & Marketing Leadership, and Job Transition Group. SIGs are active in the summer. Check it Out!
Expanding Horizons: 
Cincinnati Marketing Legends – As part of our annual Marketing Pinnacle Awards, in which we celebrate Marketing Excellence in Cincinnati, we launched a new recognition category: Cincinnati Marketing Legends. In our inaugural class, we honored three professionals who have contributed significantly over time to the profession of marketing and the Cincinnati region. Read about the 2017 Class of Cincinnati Marketing Legends.
Ignite! Get Fired Up About CX – Over the past six months, we have launched something brand new for the coming year: Ignite! Regional Conference on Customer Experience.  We are assembling an impressive line-up for a one-day conference at Cintas Center on September 22, with incredible Partners, inspiring speakers, practical takeaways and amazing networking opportunities. Learn more and get involved!
AMA 2017-2018: Passing the Torch
As you can see, we are hardly slowing down this summer, but we are shifting into a new Chapter year, with a new President and an exceptional volunteer Board. It has been a joy and a privilege to serve this spectacular community, and we will continue relentlessly to pursue practical excellence that feels every bit like magic. We invite you to help us turn up the heat on our next bright chapter year, and watch for another blog soon by your new President, Travis Nipper, to preview the coming year!