AMA Cincinnati is pleased to announce our 2019 Pinnacle Awards finalists. This year, we asked our event host and MC, legendary journalist Kathrine Nero, to announce our finalists over video, which can be viewed below.
Please join us in revealing our category winners, honoring our 2019 Cincinnati Marketing Legends, celebrating marketing excellence in Cincinnati on Thursday, May 30, 2019.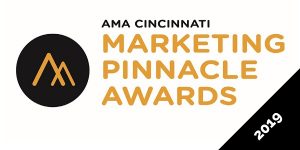 Categories and finalists are listed in alphabetical order.
Best "Non-Marketing" Marketing Program
Marketers wear many hats. This category celebrates marketers who successfully implemented disciplines like internal communications, employee relations or recruitment, or community involvement into their marketing.
Finalists:
East Walnut Hills Assembly – East Walnut Hills Neighborhood
First American Healthcare Finance – Missions Matter
SageSure Insurance Managers – Culture Quest
Best Collegiate/Student Marketing Plan, Campaign, and/or Program
This category celebrates students who have term papers, projects or capstone courses that require the creation of a marketing plan, campaign, and an extent of execution.
Finalists:
Cincinnati State Technical & Community College – Haute Fusion Studio
University of Cincinnati – Wall Street Journal
University of Cincinnati Blue Ash – Heartfelt Tidbits
Best Brand Launch or Rebranding Effort
Cincinnati is Brand Capital, USA. Whether startup or a decades-old company going through a turnaround or rebirth, this category celebrates the brand or rebrand process.
Finalists:
KZF Design – KZF Brand Design Refresh
SaleStratus – Strategic Reset
Best Content Marketing
Valuable. Relevant. Consistent. Content marketing has become the foundation of successful marketing programs. This category celebrates content marketing done well to drive audience engagement.
Finalists:
First American Healthcare Finance – Disruptive Innovation: Parkview Health's Winning Idea
Jolly Plumbing – A Flush Beats a Full house
Wayne HealthCare – Mako Robotic-Arm Assisted Surgical Technology Service Launch
Best Customer Experience Execution
Customer experience has been revered as the ultimate marketing tool. This category recognizes organizations that facilitated the pathways (channels, experiences, you name it) that anticipate wants, needs and problems and addresses them in a way that made a difference.
Finalists:
The Garage Group – Courageous Minds Only
VEGA Americas, Inc. – Technology Days
Best Digital Strategy & Execution
We live in a world of constant digital innovation and transformation. From a website that attracts the right kind of traffic and inspires action with its user experience to the variety of campaigns (paid or unpaid, on established or emerging channels), this category celebrates digital excellence and the metrics that back it up.
Finalists:
eMedia Design – Boys and Girls Club of Rochester
Premier Health – How Premier Health used Newjacking and Current Events to Grow
Sund & Co. – Data-Driven Lead Generation and Product Launch for Control Bionics
Best Integrated Marketing Campaign
This category recognizes the best thought-out marketing campaigns that use a variety of channels and vehicles (video, print, web, social media, PR, traditional paid media/advertising, events) with carefully tracked metrics to accomplish their business objectives or solve a problem.
Finalists:
East Walnut Hills Assembly – East Walnut Hills Assembly Neighborhood
First American Healthcare Finance – Innovation Challenge: Achieving Success with the Obstacle of Limits
Wayne HealthCare – Mako Robotic-Arm Assisted Surgical Technology Service Launch
Best Scrappy Marketing Campaign
No budget, no problem! This category is for marketers who fearlessly tackled the creative challenge of getting the most bang for your frugal buck, and how far it went in the end.
Finalists:
SageSure Insurance Managers – Culture Quest
Streamline Social Media – Exit 57 Studio – The Headshot Series
Vehr Communications – Cirque de Soleil & Vehr Communications – Two Shows, Countless Ideas
Watch the video from Kathrine Nero announcing our finalists