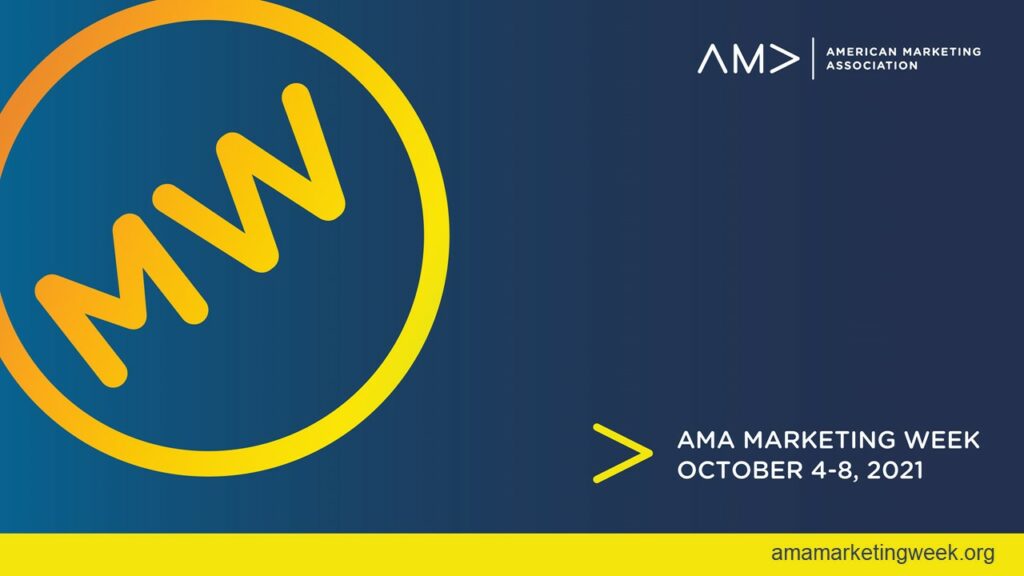 As we turn yet another page on the calendar and look ahead to the final quarter of 2021, the American Marketing Association (AMA) brings us a chance to refocus our efforts, sharpen our skills, and get inspired during AMA Marketing Week 2021, taking place October 4-8.
Throughout the week, the AMA offers opportunities to explore the value of being an AMA member, learn new skills, and hear perspectives from a range of experts, all while celebrating the stories of those that are forging new paths into the future.
Wherever you are in your marketing career, AMA Marketing Week is your opportunity to explore membership and sharpen your talents. The week's featured content is virtual and free, designed to be accessible and actionable for marketers everywhere.
Here are three of our favorite things about Marketing Week:
1.  Test Out the Perks of Membership…At No Cost!
As a marketer, you know the importance of building the tools of your trade. So does the AMA.
Every week, AMA members get access to a new perk like a training video, toolkit or other content, and during Marketing Week, everyone can test out three of the community's most-loved perks, plus one brand new perk! Get a taste of how AMA membership can help you build your professional toolkit.
Recent tools include a content planning workbook, e-commerce PPC tracking tool, customer engagement project plan, account-based marketing (ABM) playbook template, brand assessment tool, and more!
2. 
Free Digital Marketing Virtual Conference, October 5-7
This virtual conference is completely free and is a fantastic opportunity for marketers across career stages and specialties to learn about the skills needed to excel in the digital-first world.
Award-winning marketers and industry-leading researchers will guide us through the tools and strategies to help us prove our value at work. Here's a snapshot of this year's agenda…
The Revolution Won't Be Televised, It's Digital: The Rise of Marketing

Transforming Digital Strategy with Social Media

What's Trending? Marketing Executives Discuss the Future of Marketing

How Digital Maturity Can Improve Customer Retention & Build Brand Loyalty

A Symbiotic Relationship: Leveraging Owned Channels to Maximize Paid Channels

5 Tactical Plays to Innovate your Email Program, Engage your Customers, and Stand Out from the Competition

The Modern Marketer's Prescription for More Conversions in 2022

Building Consumer Trust by Valuing Privacy

The Digital Marketers Survival Guide to Life Without Third-Party Cookies

Prove Your Marketing Impact: The Fundamentals of Marketing Attribution

Transforming Digital Strategy with Social Media
Check out all the details + register here!
3. 
Inspiration from Across Communities of Marketers
The AMA, including the Cincinnati chapter, is here to be a resource for marketers in every corner of the marketing community. We are excited to see videos and hear stories offering inspiration from professional, academic, and collegiate community members, as well as from the AMA Foundation (AMAF).
The philanthropic arm of the American Marketing Association, AMAF champions individual marketers who are making an impact in our profession and community, including support for the next generation of marketers through the Diversity Leadership and Social Impact Collegiate Scholarship Programs.
Be sure to follow the American Marketing Association (LinkedIn, Twitter, Facebook) and AMA Cincinnati (LinkedIn, Twitter, Instagram, Facebook) to stay in the loop on everything happening through Marketing Week 2021!
---
There are even more ways to get involved here locally with AMA Cincinnati!