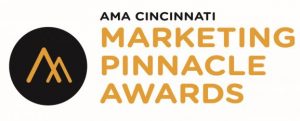 AMA Cincinnati is pleased to announce our 2018 Cincinnati Marketing Legends and Pinnacle Award category finalists. Please join us in congratulating all!
Cincinnati Marketing Legends, categories, and finalists are listed in alphabetical order.
Congratulations to our 2018 Cincinnati Marketing Legends
Jane Garvey
VP, Marketing and Communications, Cincinnati Children's Hospital and Medical Center

Jane Garvey serves as Vice President of Marketing and Communications, and is responsible for marketing, public relations, digital communications, and community relations for the Cincinnati Children's Hospital and Medical Center (CCHMC).
Being one of the top three children's hospitals in the United States, CCHMC draws patients, specialists and researchers from all over the world. It takes high quality marketing and communications to make sure the public, physicians, specialists, and researchers know this and continue to support this amazing organization. Jane has led CCHMC's marketing efforts for the last decade, including their recent rebranding, thus supporting the reputation of the Cincinnati region.
Jane also serves on many local boards, such as the Cincinnati Symphony Orchestra, the Community Learning Center Institute, the Foundation Board of the Cincinnati Museum Center, the Tri-County Economic Development Foundation and the Advisory Council of the Seven Hills Schools. She is President of the Regional Alumni Association and member of the Executive Alumni Council of Williams College and is a member of Leadership Cincinnati, Class 34.
Dave Knox
Brand Builder, Digital Transformation, Venture Investor, and Startup Advisor

At the intersection of brands, marketing, and startups, you'll find Dave Knox. Bringing a blend of classical marketing acumen along with entrepreneurial instinct to navigate a changing business landscape, he is known throughout the industry as a true innovator.
Dave started his marketing career at Procter & Gamble, where he was instrumental in the digital turnaround that led to P&G being named to AdAge's Digital A-List. As Chief Marketing Officer of Rockfish, Dave helped the company become one of the fastest growing agencies in the country, going from $13 million in 2010 to $70+ million in revenue in 2016. Simultaneously, Dave co-founded The Brandery, one of the top 10 Startup Accelerators in the US.
Dave has written about his diverse experiences in the best-selling Predicting The Turn: The High Stakes Game of Business Between Startups and Blue Chips, which was recognized as the Grand Prix winner in the 2017 Atticus Awards.
Dave was named to the iMedia 25 Class of Digital Innovators, by Cincinnati Business Courier as the CMO of the Year in the inaugural C-Suite Awards, and as a 40 Under 40 by both AdAge and the P&G Alumni Network. Dave is a frequent keynote on digital innovation and disruption, including appearances at SXSW, TEDx, Back End of Innovation, NRFtech, Brand Innovators, AdTech NYC, and the iMedia Summit.
Ric Sweeney
Associate Professor – Educator at Carl H. Lindner College of Business

Ric Sweeney is a seasoned marketing professional with industry experience in healthcare, internet, banking, and higher education. He is an Associate Professor in the Marketing Department at the University of Cincinnati's Carl H. Lindner College of Business, specializing in Principles of Marketing, Advertising, Services Marketing, Branding, and Promotions.
A passionate educator, Ric serves as faculty advisor for the UC AMA, CATALYST Marketing, Beta Gamma Sigma Honorary, and Project Heal, and is a faculty fellow for the Sigma Phi Epsilon Fraternity. He has also been a recipient of numerous awards for teaching the next generation of great marketers (excellence in teaching, excellence in education).
Ric has been a devoted volunteer for the American Marketing Association, serving locally as a Cincinnati Chapter Board Member (1997-2003) and President (2001-2002). From there, he took his AMA volunteering to the national organization. Ric has served in such capacities as a Professional Chapters Council Member (2002-2007) and President (2005-2006).
He elevated his volunteering for the AMA to its highest level, serving as a Member, Board of Directors, (2008-2011, 2012-2016), and as the Chair, Board of Directors, (2014-2015). Ric's impact on marketing, just within his AMA volunteering alone, is reflected in the fact that the AMA's annual national Volunteer of the Year award has his name attached to the honor.
Ric has also helped as a volunteer in the arts community, often leading marketing efforts with nonprofit organizations such as ArtsWave (formerly known as the Cincinnati Fine Arts Fund).
Category Finalists
Best "Non-Marketing" Marketing Program
This category features submissions that lie outside of core marketing disciplines, such as internal/employee relations or community involvement, that made a different for the company.
Sons of the American Revolution – Richard Montgomery Chapter, from Dayton, Ohio
The "Why" Behind Our Work, by SageSure Insurance Managers
The DJJ Anniversary Tree, by The David J. Joseph Company
Best BRAND Launch or Rebranding Effort
This category features submissions in which a company launched a new brand or rebranded themselves–from startups entering the marketplace to decades-old companies or institutions experiencing a rebirth.
StreamSpot Rebranding, by McMillen Creative
The new Mercy McAuley brand, by Madison Design and Consumer Clarity
Xavier University Re-brand, by the Xavier Marketing and Communications Office
Best COLLEGIATE/STUDENT Marketing Plan, Campaign, and/or Program
This category features submissions from our collegiate population, in which they had to develop (and possibly execute against) a marketing plan or campaign.
"Exploring the Power of the Ghost" by Northern Kentucky Marketing Association Club at Haile/US Bank College of Business, Northern Kentucky University
"Once Upon a Time" by Northern Kentucky Marketing Association Club at Haile/US Bank College of Business, Northern Kentucky University
"Winning the Millennials' Hearts Back" by Northern Kentucky Marketing Association Club at Haile/US Bank College of Business, Northern Kentucky University
Mary Kay "Naturally Me!" by University of Cincinnati American Marketing Association
Best CUSTOMER EXPERIENCE Execution
(formerly best use of INSIGHTS to Drive Experience, Engagement and/or Innovation)
This category features submissions in which an experience was created that made a difference for a target audience. Customer experience has become the new "currency" for brands looking to up their status and profit, after all.
"Problem Gambling: It's a Disorder, Not A Decision, by Northlich for the Ohio Lottery" by Northlich
Standard Textile for Best Western Hotels, by the Standard Textile Marketing Team
Fast Park & Vehr Communications: Customer Experience in the face of Hurricane Harvey
Best INTEGRATED Marketing Campaign
This category features submissions that executed the best thought-out marketing campaigns that use a variety of channels and vehicles (video, print, web, social media, PR, traditional paid media/advertising, events) with carefully tracked metrics to accomplish their business objectives or solve a marketing problem.
Humanizing Healthcare Finance, by First American Healthcare
Healthy Hacks 2018 by HyperDrive Interactive
Graeter's National Ice Cream Month, by RMD Advertising
Best Overall DIGITAL Strategy & Execution
This category features submissions that deliver optimal impact across all digital channels to create engagement and conversion opportunities, with the Google Analytics and metrics to back it up.
Champion Windows and Home Exteriors, Digital Disruption
Premier Health – Jenny's Journey
Premier Health – Premier Health Now
Best SCRAPPY Marketing Campaign
This category features submissions that had to pull off an impressive marketing initiative on a shoestring budget.
The #HonestPlumbing Campaign by Ryan Eten and Jolly Plumbing
Ramp it up for Veterans by PWC and Scooter Media
Xavier University Office of Marketing and Communications, Orientation Blessing Video
Best Use of CONTENT for Inbound Marketing and Engagement
This category features submissions that focused on creating and distributing valuable, relevant, and consistent content (written, multimedia, etc.) to drive prospect or customer action.
The #HonestPlumbing Campaign by Ryan Eten and Jolly Plumbing
The Behind the Scenes story series by UC Health's Marketing & Communications team
Vehr Communications and Cincinnati Public Schools, IamCPS
Best Use of Technology for SALES Enablement
This category features submissions that incorporated, adopted, and adapted marketing automation and CRM for lead and demand generation activities that are essential in driving sales initiatives, asset creation, relationship development, and conference/trade show participation.
Champion Windows and Home Exteriors, Sales App
The Wastewater Customer Journey map by Start Something Bold for their client VEGA Americas
New this year, we will be recognizing Special Merit for In-House Warriors and Research or Insight Catalyst among our finalists at the awards ceremony. Enjoy a great party with us as the winners are revealed in a closed-envelope ceremony on May 31. Register now, tickets are going fast!